Entrevista por Filipe Gil
Fotografias por Sebas Montero
Na última Rock'n'Roll Marathon & Half Marathon do passado domingo, dia 18 de outubro, vários bloggers espanhóis, adeptos do running, foram convidados pela Adidas Portugal para virem correr pelas ruas de Lisboa.
Entre os vários, estavam Alma Obregon e Lucas Heras, um casal muito simpático e que adoram viajar e correr. Alma é umas das bloggers mais conhecidas de Espanha e podem conhecer melhor o seu trabalho ou as suas aventuras na corrida. Não deixamos a oportunidade de lado e fizemos-lhes uma entrevista que publicamos aqui - e por questões de tradução, preferimos fazer as perguntas em inglês. 
Tell us a bit about both you (Alma & Lucas)?
Alma: My name is Alma Obregón, I'm 31 years old and I am a teacher at a pastry school. I also host a TV show on baking. I have been running for more than 5 years now and I love marathons and ultra-marathons.
Lucas: My name is Lucas Rodríguez, I'm 34 and I work in a private foundation. I run since 2009 and met Alma while training for the Seville Marathon. We got married this august.
Was this your first time running in Lisbon?
Alma: Yes.
Lucas: No, I actually ran the Half Marathon (the other one) in 2011, it was my first half marathon ever!
How was the experience of running Lisbon's Half on the October 18th?
Alma & Lucas: We loved it. The beginning of the race is amazing and we enjoyed the whole experience very much.
Running in Lisbon is different from running in Spain. Which are the main differences? 
Alma & Lucas: We think it wasn't that different, we found it very similar to Spain :)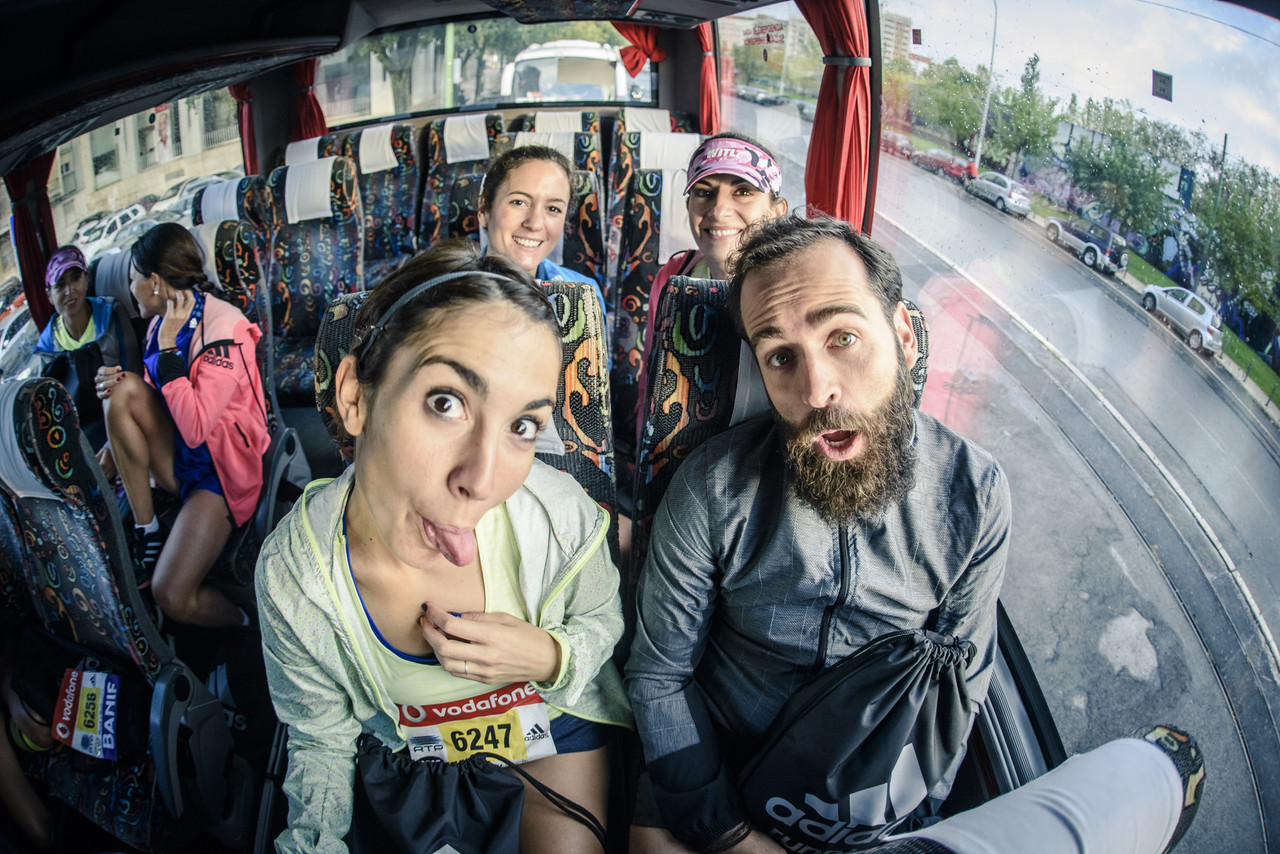 How is the "running scene" in Spain? Are there more people running than before?
Alma & Lucas: Yes! It's crazy now. There are thousands of runners in each race and everyone seems to run these days. A few years ago it wasn't like this. Now everyone runs.
You both run trail and road races. What do guys you prefer?
Alma: I prefer trails, I love running in the mountains, but enjoy Marathons very much as well.
Lucas: I love road races, especially short ones, I enjoy 10k and half marathons the most. 
Alma, you have run the Leadville 100 mile race. How was it? 
Alma: It was crazy!!! Hahaha. It was the most challenging race I've ever ran. I trained hard for it but it was even harder that what I expected. The altitude is so extreme and climbing Hope Pass is like hell. But I loved it. Lucas was super important for me, as he was my crew for the first kilometres and then ran with me the last 60k. I couldn't have made it without him!
Do you have any tips for our readers to choose a good Marathon or Half Marathon in Spain?
Alma: I think the best marathon for a personal best is Seville. Also Valencia is super flat. And I loved running the Barcelona Marathon, there are thousands of people cheering the runners.
Lucas: I would recommend the Behobia-San Sebastián. It's only a 20k, not a half marathon, but it super special, with lots of people supporting the runners. It's great!
Do you have plans to come back to Portugal and race another event? 
Alma & Lucas: Yes! Definitely!!! We'd like to run the other half marathon in Lisbon :) 
10- Are you going to run New York Marathon, November 1st? Is it your first time? If yes, what are you guys expecting from that?
Alma & Lucas: Yes, we're both running NY Marathon this Sunday. It's our first NY Marathon and our second Major (we ran Chicago last year). This time we won't aim for a personal best, we just want to enjoy the race as much as possible.
Can you both choose one word to describe your experience in Lisbon?
Alma: Amazing!
Lucas: Great!
Alma and Lucas, Correr na Cidade Running Crew wish you good luck in NY, above all, enjoy the ride!